New hardware for BatMUD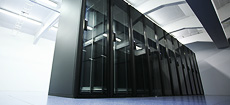 Balanced Alternative Techniques ry ("B.A.T. ry") continues to invest in the growth and continuous development of BatMUD. Inclusive to the upkeep of a lasting progress is renewing the core services' hardware in appropriate cycles, which includes such as renewal of hardware support agreements on critical services.
The newest BatMUD operating server now (in production since Thursday the 24th of April, 2008) runs some of the game's core services. The transition happened incredibly successfully, while new technology (Solid State Disk) was taken into use on appropriate portions (due to a demand for high random reads). The initial feedback and response from players has been encouraging, BatMUD now features less "game lag" increasing the overall playability.
A short overview of BatMUD's current production hardware include:
Server nicknamed "Ix'ixixiblat":
a DELL PowerEdge 2950-III (2U size) server w/ redundant power supply
2x Intel Quad-Core Xeon X5460 3.16GHz/2x6MB 1333FSB
32GB 667MHz FBD (8x4GB dual rank DIMMs)
PERC 6/iR, Integrated Controller Card x6 backplane
five (5) 146GB SAS (15.000 rpm) 3.5-inch Hard Drives (RAID-10)
MTRON Pro7000 32GB SSD 3.5-inch SATA
Server nicknamed "Torturer":
a DELL PowerEdge 2850 (2U size) server w/ two (redundant) power supplies
2 x Intel Xeon 3.8GHz processors w/ 2MB L2 cache
8GB DDR2 SDRAM 400MHz memory
a PERC 4e/DC U320 Dual-channel RAID w/ battery backup
six (6) 146GB U320 SCSI 15K RPM drives (RAID-5)
Server nicknamed "Baal":
Tyan Transport TA26 (2U size) server chassis w/ two redundant power supp.
2 x AMD Opteron 250 (2.4GHz) 64-bit processors
4GB DDR ECC REG 400MHz memory
LSI MegaRAID Ultra320 Dual-channel w/ battery backup
eight (8) Seagate Cheetah 15.3K ST336607LC 37GB drives
BatMUD employs also several other servers in different data centers for other operations and tasks, such as backup, developer testbeds etc.
Play.