20 years of BatMUD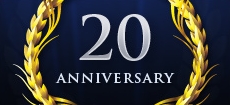 March 31, 2010 - Balanced Alternative Techniques ry ("B.A.T. ry"), Finland is immensely proud to announce BatMUD's 20th Anniversary.
BatMUD the Game (http://www.bat.org/), has been online and available to players on the Internet officially since the 14th of April, 1990. Over 150,000 players have frequented it since its opening. Peculiarly, BatMUD had achieved a huge popularity and following already during the era when the "modern day Internet" or the World Wide Web (WWW) itself was still very much unheard of.
A successful 20-year journey for an online game is a massive achievement; anything else would truly be an understatement. BatMUD has had its share of misfortunes plus setbacks and it has also survived the onslaught of the Massively Multi-Player Online Games (or the MMO), starting from the days of Ultima Online, the ages of the EverQuest I & II, Dark Age of Camelot, Shadowbane, Anarchy Online, EVE Online, World of Warcraft, Lord of the Rings Online, Age of Conan, Warhammer Online and Darkfall Online-- just to name a few potent past and current (graphical) contenders in the Online gaming industry.
The Finland-based BatMUD has always been an underdog on the scene. During the boom of text-based online gaming in the 1990s, it was among the top three to five contenders with 600+ players simultaneously online; but the game has never shot for commercial success and all funding required for the game has been based on a voluntary effort. However, BatMUD has had the pleasure of enjoying the benefit of over two hundred bright-minded individuals contributing to its codebase, in a controlled manner, during the two decades of its operation.
Today, the text-based BatMUD is very much a thriving online community which attracts a constant stream of new players - several of which have been born only after the Game itself! While it is acknowledged that BatMUD's uniqueness provides a somewhat hard-to-familiarize-to environment, the Game has developed a graphical game-client for countering the obvious usability-related shortfalls of the otherwise rich and powerful text-based fantasy environment.
The 20-year old BatMUD continues to strongly evolve and develop; offering a diversity and feature set other games are still struggling to match. While other games close shop, the underdog is not looking to go away.
Wishing You another strong 20 years of online gaming - BatMUD.
Updates:
Transcript of BatMUD's 20th Anniversary Gala speech from Kaivohuone on 17.4.2010
The Official photo gallery from BatMUD's 20th Anniversary Gala, Saturday the 17th of April 2010
Translation of Peliplaneetta.net's article about the 20th anniversary gala