A BatMUD Cosplay competition
Helsinki, Finland April 13, 2012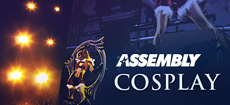 Balanced Alternative Techniques ry ("B.A.T. ry") is delighted to announce BatMUD Cosplay Competition for the second year running at ASSEMBLY Summer 2012, the famous computer festival held at Hartwall Arena in Helsinki, Finland. The festival is held between Thursday 2nd - Sunday 5th of August, 2012 (for more information visit http://www.assembly.org/).
The cosplay competition will follow the 'freestyle' rules of last year (e.g. there won't be any requirement that the costume hasn't been presented at some other competition already - however, originality will be appreciated by the panel of judges); and of course a (semi-)professional photographer will immortalize the painstakingly crafted costumes.
The competition finalists will get to present their costume (and skit) on the Assembly Grand Stage; with potentially thousands of people watching. The Winners (Top-5) will receive a cash prizes as follows:
1st place 1.100,00 euros 2nd runner up 700,00 euros 3rd place 400,00 euros 4th place 300,00 euros 5th place 200,00 euros (6th place 100,00 euros)
In the minimum, the total amount of cash prices as preliminarily agreed is 2.700,00 euros, sponsored by the fantasy roleplaying text-game/MMO BatMUD! Making BatMUD Cosplay Competition the largest in Finland, per level of offered prizes. As per last year, we are looking to co-operate with Cosplay Finland Tour (http://www.cft.fi/) and high-fashion dress/corset designers of Belle Modeste Ltd (http://www.bellemodeste.com/) in forming a judging panel in addition to BatMUD representation.
Competition rules and further competition/enrolment information at http://www.assembly.org/summer12/activities/batmud-cosplay. Note that even if competing, you will need to purchase tickets to Assembly Summer '12 to gain entrance to the venue.
Pictures from the previous, BatMUD Cosplay 2011 competition. More from Assembly -site.
Balanced Alternative Techniques ry ("B.A.T. ry"), is a self-funded association/organization, officially registered 1994 in Helsinki, Finland. The organization is professionally run by long time game designers. It is audited yearly by Chamber of Commerce approved auditors. B.A.T. ry owns the copyrights for BatMUD and its content; and holds registered Trademarks for BatMUD.
Play BatMUD free by downloading our Java game-client from http://www.bat.org/play/batclient